Ecuador is a unique place that you could visit year round. With all the experience we have acquired giving quality services during this years, MOMOPEHO is ready

to offer you the tours and cruises for 2006.

The increase of tourism that is taking place nowdays have made us offer you many choices in the four natural regions of Ecuador.
This is not a full photographs web-site because we want to be useful to you: faster, clear, real and easy to use.
We are taking advantage of The Galápagos Islands, the jungle and all the other Natural Reserves, National Parks, Volcanoes, beaches, historical places and the cultural, gastronomic and ethnic surrounding of our country. Welcome to Ecuador, the Middle of the World...!

If you do not find the exact itinerary you want, please do not hesitate to ask for a tailor made quotation.
At the Cotopaxi Volcano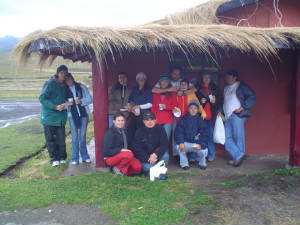 Thanks to our 28 years of experience, this year we offer our EXCLUSIVE & UNIQUE desig and operated CIRCUITS BY BUS to discover more and more of this one of the most-bio-diverse country around the world,
for your great ECUADOR EXPERIENCE

QUITO - ECUADOR
SOUTH AMERICA

Phone: (593-9) 830-9202

Tele-Fax: (593-2) 243-9460